You may have got a Sony, Canon, JVC or Panasonic AVCHD camcorder and shoot lot of AVCHD (.mts) videos and now want to make a home movie via Mac or Windows editing software (Final Cut Pro, iMovie, Premiere Pro, AVID, Sony Vegas, Windows Movie Maker, etc), but your software can't import and preview all the AVCHD recordings. How to solve this problem? Perhaps you like playing the AVCHD footage on HD media players, such as tablet and Smart TV, Apple TV, WD TV, Roku and popular tablets (iPad Air, Surface 2/Pro 2, Kindle Fire HDX, Nexus 7, Galaxy TabPro, Galaxy NotePro) this guide will give you the best AVCHD solution. Let you enjoy the AVCHD videos with any way.

AVCHD Camcorder Users Questions
Q 1: I can't import Sony AVCHD video files into Windows Movie Maker, is there some way to break open the AVCHD file to alow me to edit it in Windows Movie Maker? Should I download a AVCHD/MTS Video Converter?
Q 2: How to play Panasonic AVCHD files on Samsung Smart TV? I transferred the AVCHD video files to a USB Flash drive, but the Samsung Plasma 8500 Series Smart TV can't recognize the .mts files. I plan to get a Panasonic MTS Converter freeware to open AVCHD sources. Please help.
Q 3: Which AVCHD Converter is the best one? I've edited Canon XA20 AVCHD projects in legacy versions of Final Cut Pro 7, but not yet in FCP X, and I'll be darned if I didn't have a heck of a time finding definitive information about the proper procedure for importing AVCHD video into FCP X. I felt harassed by spending much time on rendering videos.
About AVCHD Video Format
AVCHD is a file-based format for the digital recording and playback of high-definition video.
The AVCHD uses the MPEG-4 AVC/H.264 standard, supporting a variety of standard, high definition, and stereoscopic (3D) video resolutions. For audio compression, it supports both Dolby AC-3 and uncompressed linear PCM audio. Stereo and multichannel surround (5.1) are both supported.
Top AVCHD Solution
There is a best way to help you play and edit Sony, Canon, Panasonic, JVC AVCHD files freely. Just converting AVCHD files via Acrok MTS Converter. If you are Mac user, you can free download Acrok MTS Converter for Mac.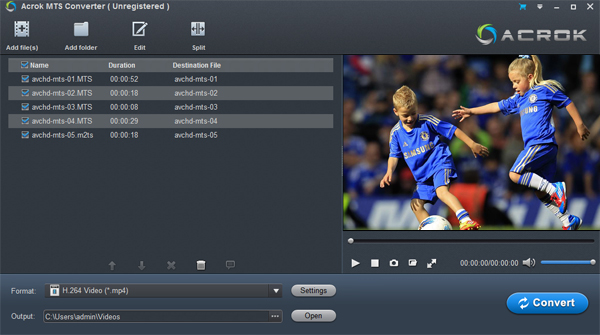 Acrok AVCHD/MTS Converter Features
– Convert AVCHD to ProRes MOV for Final Cut Pro, iMovie (Only Mac version)
– Convert AVCHD to MP4, MKV, AVI, WMV, MOV, M4V etc.
– Extract Soundtracks and Images from Movies (Totally Free)
– Output videos to various devices (iPad, iPhone, Windows tablet, HTC/Samsung smartphone)
– Edit videos on Mac and Windows easily (trim, crop, merge, split)
– Support Sony Vegas, Premiere Pro, Movie Maker, Pinnacle Studio
Free download AVCHD Converter trial version here.
How to convert AVCHD/MTS on Mac and Windows?
Step 1: Install and run AVCHD Converter on Mac or Windows. Add AVCHD video into this best AVCHD Converter.
Step 2: Choose output profile. Click "Format" bar, you can choose any output format.
Step 3: Settings, edit AVCHD video via AVCHD Converter. Click "Settings" button, on which you are allowed to adjust video and audio settings, including codec, aspect ratio, bit rate, frame rate, sample rate, and audio channel. If you like, you can click "Edit" to trim, crop, merge, split the AVCHD video files.
Step 4: Click convert button to convert AVCHD to any format on Mac and Windows.
AVCHD Converter Reviews-2015
1. This is a friendly app for converting AVCHD footages, I can convert any video for Final Cut Pro X, and I can edit AVCHD video in FCP X without rending.
2. It's a surprise, there are many profiles in Acrok MTS Converter. The trim function is useful. I can play AVCHD on my iPad Mini now. Thanks very much!
3. This software is the best on of my tried AVCHD Converter in 2014, I would recommend this app to my friends. They will can convert and share their AVCHD videos with more people.