How to play Blu-ray Disc? You may choose play Blu-ray movies on HD TV/Smart TV via Blu-ray Player, or play it on computer with Blu-ray Drive. Whatever, Blu-ray bringing us more and more surprise. Especially the 3D technology let us get a new visual experience. If you are a movie fan, perhaps you have the questions as below: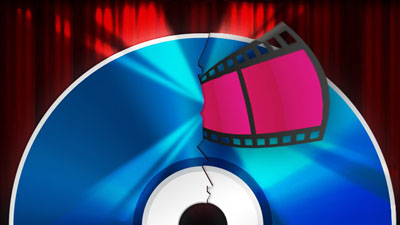 A 1: I want to backup my Blu-ray to my PC for playing. How to transfer Blu-ray to hard drive? I can't play Blu-ray disc digital copy files on computer without redemption code. Importing the redemption code is a troublesome thing.
A 2: I like watching 1080P Blu-ray movies, and I am a collectors, I have collect more than one hundred Blu-ray discs on my bookshelf. Including Titanic, The Terminator, The Lord of the Rings, The Hobbit etc. I plan to backup Blu-ray disc to hard drive. What should I do?
A 3: I got one Surface Pro 3 tablet, and I can't transfer Blu-ray to my Surface Pro 3 for playing on the go. How to transfer Blu-ray to Windows tablet for watching? And the Android tablet have the 4G storage limits, I have to compress Blu-ray for my new tablet. Who can recommend a software to rip and compress Blu-ray disc?
About Blu-ray Disc
Blu-ray Disc is an optical disc storage medium designed. Conventional (pre-BD-XL) Blu-ray Discs contain 25 GB per layer, with dual layer discs (50 GB) being the industry standard for feature-length video discs. Generally, these formats allow for the video and audio to be stored with greater definition than on DVD. During the high definition optical disc format war, Blu-ray Disc competed with the HD DVD format. Blu-ray Disc bring us a new full HD world.
For backup Blu-ray Disc to your computer or hard drive, you need a Blu-ray Ripper to rip Blu-ray Disc to common video foramt. Acrok Blu-ray ripping software can help you copy Blu-ray digital copy to computer, and you can convert Blu-ray Disc to any video/audio format. You can play the ripped Blu-ray movies on HDTV/Smart TV via USB, play converted Blu-ray on iPad Air, play converted Blu-ray music on car via MP3 player, watch converted Blu-ray movies on Galaxy Tab S etc. We recommend you the best Blu-ray Ripper for you. You can free download the trial version then install on your Windows or Mac.
How to backup Blu-ray Disc to hard drive for more usage?
Step 1: Free download Blu-ray Ripper, install it onto you computer.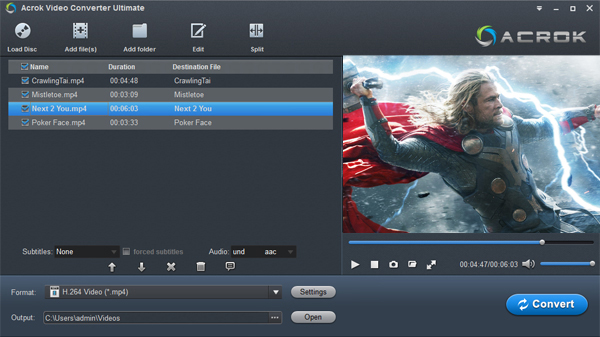 Step 2: Insert Blu-ray disc to your Blu-ray drive. Run this top Blu-ray Ripper, click "Load Disc" icon to load Blu-ray files from Blu-ray rom.
Step 3: Backup Blu-ray Disc
Copying Blu-ray Disc: Click quick button "Format" > "Disc Copy" > "Full Disc Copy (Only for Blu-ray/DVD)" to starts copying the Blu-ray disc to hard drive maintaining the original structure. If you just wanna do movie only copy, you can choose "Disc Copy" > "Directly Copy" from the Format menu to copy the . vob files only. After that, do remember clicking "Convert" button to do Movie-only copy. When the copying work is done, you are able to click "Open" button to get the output .vob files without any other extra contents.
How to rip Blu-ray Disc on Windows or Mac?
After backuped your Blu-ray disc to hard drive, if your media player does not support Blu-ray navigation, you can drag and drop the Blu-ray directory to Blu-ray Ripper again and convert the movie to popular video formats (MP4, AVI,  MOV, M4V, WMV, MKV, etc)
Click "Format" bar to choose a output format. Here, you can choose H.264 MP4 format. This format is a good format for playing on any devices (HD TV, Smart phone, tablet, PS4, Xbox One). For convert Blu-ray to MP4, just need to click convert button.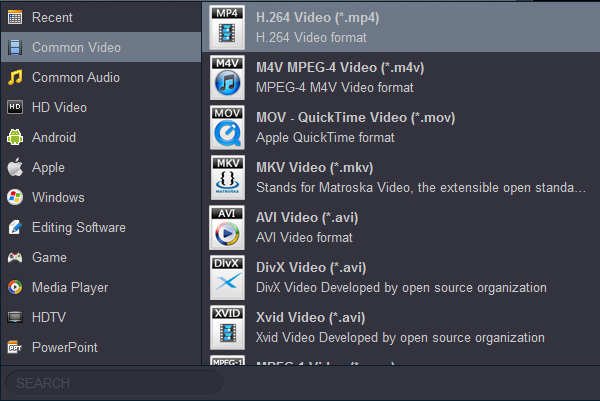 Tip: If you want to compress Blu-ray, you can choose "H.264 Vidoe (*.mp4)" under "Common Video" category. Click the "Settings" icon and you will go into a new interface named "Profile Settings". You can adjust codec, bit rate, frame rate, sample rate and audio channel in the interface according to your needs and optimize the output file quality.
After conversion, you can  click "Open" button to locate the converted video files.