By
admin
Are you really disappointed when you can't watch your favorite DVD movie because of irritating scratches? Are you sick of paying good money for movies that are scratched minutes after you take them from the case? Here we'd like to publish an article describing several techniques to help you repair a scratched DVD.
How to Fix and Repair Scratched DVDs in Effective Ways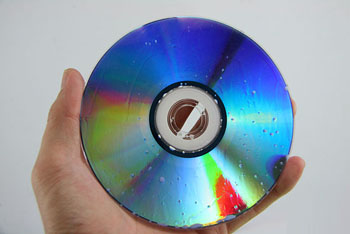 1. Fix scratched DVD using toothpaste:
You can use some toothpaste to fix scratched DVDs. Do not use toothpastes that contain abrasive particles or gels. Otherwise, you will do more damage to your DVD disc. Just apple the toothpaste to the DVD disc surface and use a soft cloth to clean the disc following the circle starting from the center to the outer edge. After cleaning, wipe to make sure no toothpaste is left on the DVD disc.
2. Fix scratched DVD using banana:
Another way to fix DVD scratches is using banana. Surprised, huh? Just cut a small piece of a ripe banana and rub it on the disc in a spiral motion. Then rub the disc with the banana peel spirally and gently. After that, wipe the disc surface with a soft cloth.
3. Fix scratched DVD using wax furniture polish:
You can also use wax furniture polish to repair scratched DVD. Use a jewelry polish soft cloth and some wax furniture polish to clean the scratched DVD disc with a motion from the center to the outer. Then rinse it with cold water gently and dry it with cloth.
4. Fix scratched DVD using commercial disc repair liquid:
There are many disc repair liquids in electronic stores. You can find some and follow the instructions to fix your scratched DVDs.
5. Fix scratched DVD using Peanut butter: Peanut butter can help repairing the scratched DVD owing to the oiliness and stickiness, which will help smooth out the surface of the DVD disc. Use creamy peanut butter instead of crunchy ones.
Note: If there are many scratches and the curves are deep, you'd better take it to a DVD repair shop rather than fix it yourself.
Now stick your disc back inside your player, and attempt to play it again. Well, before suffering from scratched DVDs, is there any method to protect and preserve your DVDs? We found that copying DVD to hard drive is the best way.
Blu-ray Ripper, an ideal DVD copy software that allows you to copy and backup all DVD movies with the original structure or copy main movie from a DVD without any other extra contents. The equivalent Mac version is DVD Backup for Mac. Just get the right version and save your DVD in a best way.
DVD backup guide for you:
Fast Backup DVDs with original structures
With these tips, you can easily keep your DVD discs from scratching and manage your movies in a more convenient way.