By
admin
"Several days ago I purchased an Amazon Fire TV, this is a new digital device for me, and I don't know how to operate it. I know that the Amazon Fire TV can play photos and videos that stored on cellphone or tablets. Can anyone show a way to play Android photos and videos on Amazon Fire TV? I use a Samsung galaxy S5 smartphone."
Amazon Fire TV is a hot device now, there are more and more people has received this wonderful smart TV device. With it, we can watch online videos, movies, or TV shows with just few clicks, and it won't take much time when we select anyone movie to watch. There are many functions that Amazon Fire TV can do, besides playing online videos and movies, it can also help us to play games on HDTV, play music, and stream photos and videos to TV, mirror our tablet on HDTV, etc.
On the forum, there are some new users don't know the way to Play Android photos and videos on Amazon Fire TV, in this article, we will share the easy steps to play images and movies on Amazon Fire TV from Android tablets and smartphones.
How to watch Android photos and videos on Amazon Fire TV?
Step 1. Upload to Amazon Cloud Drive
In order to view photos and videos on Amazon Fire TV, first you will need to have an Amazon account and Amazon Cloud Drive. After you have the Amazon Cloud drive, you can upload any personalize photos and videos to Amazon cloud drive for Amazon Fire TV.
To upload the photos and videos from Android to amazon cloud drive, you will need to install Cloud drive app on your Android smartphone. If you add the photos and videos on desktop computer, you can also add through your web browser. To learn this step with more details, you can go to the Home screen of your Amazon Fire TV, and then select Photos -> Add Photos & Videos. It will show more details.
Step 2. Select and play
After you uploaded the photos and videos to Amazon Cloud Drive, please open your Amazon Fire TV, from the Home screen, please choose Photos, and the you can browse the photos and videos by pressing the right or left button on your remote. When you want to view a photo or play a video, just press the Select button, the Amazon Fire TV will show your photo and video immediately.
Note: You can set up parental controls to disable access to your videos and photos. To learn more about this feature, you can read your manual's Set Up parental controls section.
Tip:
How to play any movies on Amazon Fire TV?
From Amazon Fire TV official website you will know that this device only supports limited formats, like H.263/H.264/MPEG4-SP/VC1, if you have movies in other video formats, not all of them can be played on Amazon Fire TV through amazon cloud drive, for example, MKV, AVI, MOV, WMV, FLV, MOG movies all can't be played. You will need to convert movies to supported format to Amazon Fire TV, here we recommend you to choose MP4 format, and use Acrok HD Video Converter software, this software can work as the best Amazon Fire TV Video Converter, it will convert any movies to MP4 format for uploading to amazon cloud drive for Amazon Fire TV.
Here is its main interface: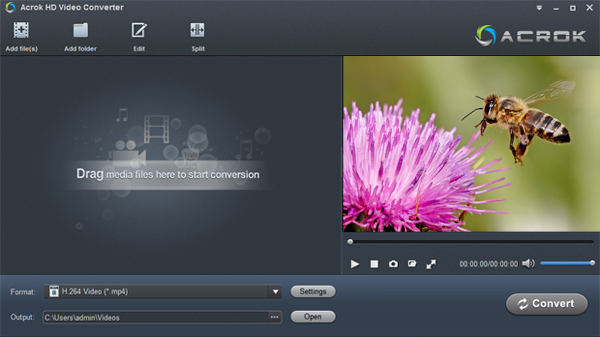 After you loading the movies, just select MP4 for output.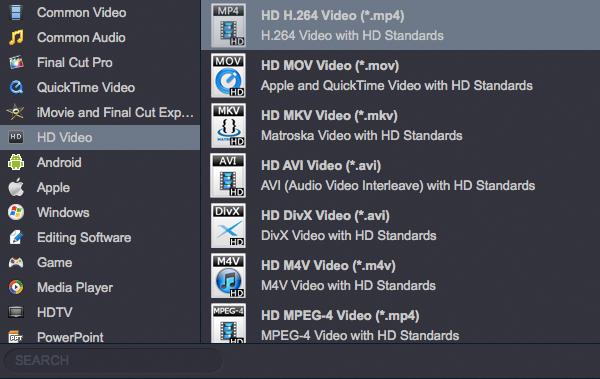 Convert the movies, and then upload to Amazon cloud drive, or transfer to kindle fire HDX (for mirroring), and use Amazon Fire TV to play movies smoothly. Just take a try now! This tool will help you.