Convert BRAW/RAW/ProRes/CinemaDNG to MP4/MOV/MKV/WMV
How to import and edit Blackmagic camera's 4K RAW, ProRes, CinemaDNG and Avid DNxHD footage in Final Cut Pro, iMovie, Vegas Pro, Avid and Premiere Pro, etc? You need a Blackmagic 4K Video Converter to convert Blackmagic 4K recordings on Windows or Mac. We height recommend you to choose Acrok 4K Video Converter.
The Blackmagic Cinema Camera (often simply the Cinema Camera or BMCC) is a digital movie camera developed and manufactured by Blackmagic Design and released on September 4, 2012. It is part of the Cinema Camera family of digital movie cameras and shoots 2.5K video in raw, Apple ProRes, CinemaDNG and Avid DNxHD formats. braw file extension. Blackmagic RAW is a revolutionary new and very modern codec that's easier to use and much better quality than popular video formats, but with all the benefits of RAW recording.
Videomaker's Best Camcorder of NAB 2013 is the Blackmagic Production Camera 4K. The team at Blackmagic Design has been hard at work preparing the release of the Blackmagic Production Camera 4K. Now, the professional has blend in our life. The Blackmagic Production Camera 4K captures 3840×2160 on its Super 35 sensor. Blackmagic Production Camera 4K at a very good price – $3,995.
For Blackmagic Production Camera 4K users, you may want to convert the Blackmagic 4K video captured with the camera to other format for further usage. However when you enjoy the stunning videos recorded of HD image quality, you may encounter problems of trying to edit Blackmagic 4K footage in FCP X, Premiere Pro and After Effects. To make 4K videos editable in your editing software, this top 4K video conversion program can transcode Blackmagic 4K BRAW/RAW/ProRes/CinemaDNG video for editing software and media player.
How to convert Blackmagic BRAW video to MP4/MOV/MKV/WMV?
If you want to convert BRAW to MP4 or other formats or edit the BRAW video, DaVinci Resolve is your only and the easiest way out. But we can't convert BRAW to MOV, MKV, WMV, etc.

Hot Searchs: Convert BRAW to MP4, convert BRAW to MOV, convert BRAW to MKV, convert BRAW to WMV, edit BRAW in Final Cut Pro X, import BRAW to Premiere Pro
1. Download and install the latest DaVinci Resolve at https://www.blackmagicdesign.com/products/davinciresolve. It is available on macOS, Windows, and Linux. (Here, I'm using DaVinci Resolve 17)
Note: The "Studio" version is paid software. Download the free program, which is by the plain name of "DaVinci Resolve". Both versions come with a Blackmagic RAW Player on which you can play the BRAW files natively.
2. Run DaVinci Resolve. Over the top-left menu, click "File" > "Import" > "Media…" (or press "Ctrl + I") to import the BRAW file into the media pool.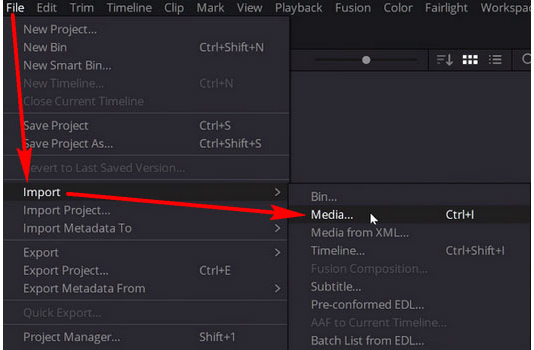 3. At the bottom of the screen, click on the far right "Deliver" tab that looks like a rocket ship.

4. The "Render Settings" section will show up on the upper-left of the workspace. You can follow the provided options (Filename, Location, Format, Codec, Encoder, Resolution, Frame rate, Quality, etc.) to render BRAW as MP4, lower the resolution, change quality, any way you like. When you are ready, click "Add to Render Queue" at the bottom right.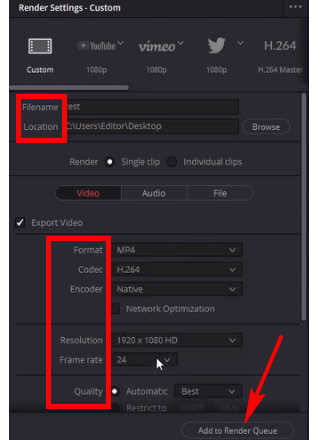 5. Now, your file will be available over the upper-right "Render Queue" section. Click "Render All" below to export the BRAW file as H.264 MP4.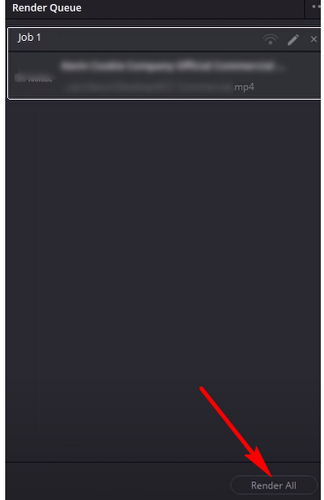 To get MOV, MKV and WMV videos, please download Acrok Video Converter Ultimate (For Windows | For Mac) to convert the converted BRAW files to other video format as you like. You can convert Blackmagic ProRes, CinemaDNGMP4 and Avid DNxHD video to any video format, any degital device and media player software.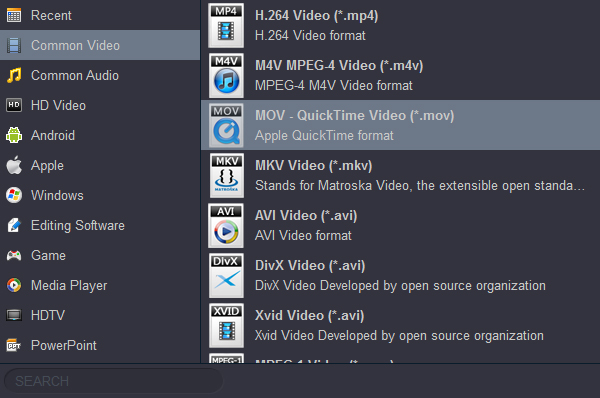 This 4K Video Converter will be your ideal choice to transcode Blackmagic Production Camera 4K to various popular HD format files including MOV, F4V, MPG, M4V, 3GP, 3G2, HD AVI, HD WMV, HD Divx, HD Divx, HD H.264, HD MPEG-4, HD MPEG-2, HD MPEG-TS, etc.
Free download Top Blackmagic 4K Video Converter
4K Video Converter Interface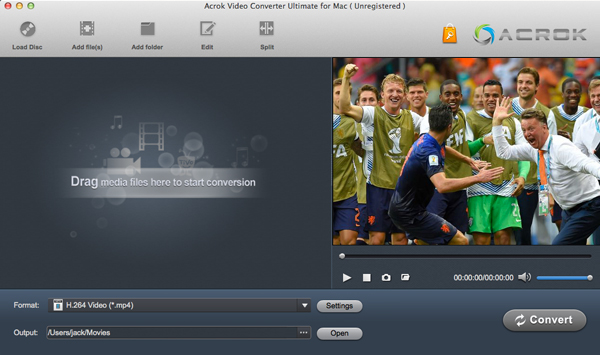 How can I edit Blackmagic 4K footage in Final Cut Pro X?
Final Cut Pro best editing video format is Apple ProRes MOV. So to import and edit Blackmagic 4K video in FCP X, you need to transcode Blackmagic Production Camera 4K video to ProRes MOV video via a 4K Video Converter.
How to edit Blackmagic 4K video in Premiere Pro CC?
You can't import Blackmagic 4K MXF or MTS video to Premiere Pro CC, CS6 and CS5? We should to know the what video format is the Premiere's native supports format. MPEG and H.264 MOV, yes, you can convert Blackmagic 4K video to any format for Premiere Pro on Mac or Windows.
How to use Blackmagic 4K Video Converter?
Step 1: Add 4K video into Blackmagic Video Converter
Install and run Blackmagic 4K Video Converter on your computer. Add Blackmagic 4K video into this powerful 4K Video Converter.
Step 2: Choose output format
Click "Format" to choose output format. You can choose Apple ProRes MOV format for editing Blackmagic 4K footage in FCP X.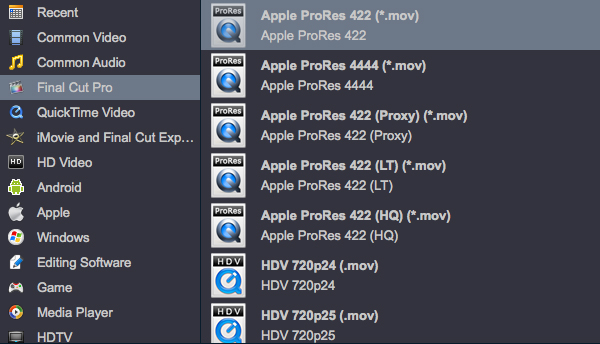 Tip: If you wan to edit Blackmagic 4K video in other editing software, you can go to Editing Software category to choose a output format as you needs. For playing 4K files on your tanlet or smartphone, you need to choose a common format – H.264 MP4.
Step 3: Settings
You can also click "Settings" which is marked as step 3 to fix the frame rate, bitrate and video quality to your needs.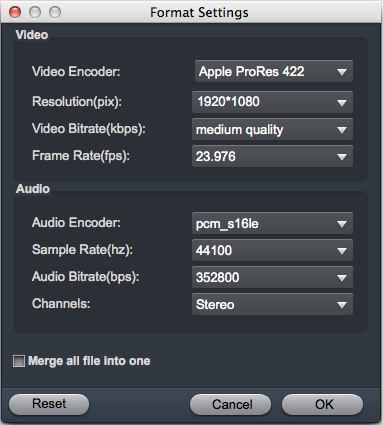 Step 4: Start converting Blackmagic Production Camera 4K video file
Click "Convert" button and let it go. The Blackmagic 4K Video Converter supports batch conversion, so if you have lots of 4K videos to convert, check 'Shut down computer after conversion', and you can go away without keeping an eye on it.
Step 5: Get converted Blackmagic 4K video
After conversion, you can click "Open" button to locate converted video files. You can edit, play and share you 4K videos freely.